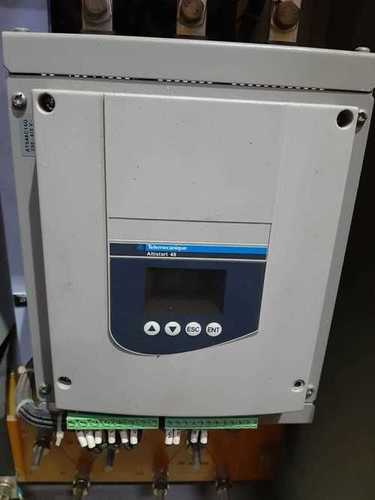 Telemecanique Altistart 48
Product Description
The Alti start 48 (ATS48) soft starter offers state-of-the-art acceleration and deceleration control of standard three-phase asynchronous induction(squirrel cage) motors. The ATS48 controller uses a patented technology to control the motor performance based on the motor torque rather than simple voltage or current based control. Advanced control algorithms are incorporated to help ensure smooth rotation throughout the starting ramp without mechanical instability at the end of starting.
A microprocessor monitors the motor and controller performance for added protection of the controller, motor, and driven machinery. A variety of starting and stopping modes are standard. A digital keypad display is provided for controller setup and motor performance display.
The ATS48 controller is available in twenty-one current ratings from 17 to1200 A. All models use a common control interface for consistent and simple set up. ATS48 controllers are rated for use with 208 to 690 V motors,and are self-adjusting for a 50 or 60 Hz supply frequency.
This instruction bulletin covers the technical characteristics, specifications,installation, wiring, programming, and troubleshooting of all ATS48controllers.Many option kits are available for the ATS48 controllers. Refer to Appendix C beginning on page 85.
Contact Us
Talavadi Char Rasta, Alka Cinema Road, Opp. Imamwada Masjid, Bhavnagar, Gujarat, 364001, India
Phone :+918037402597