Reliable and smart electrical solutions in the form of
ACB Switchgears, MCB Switches, Rotary Switches, Timers, Relays, Contactors, AC Drives, PLC Programmer, IGBTs, SMPSs, AVRs,
etc....
An Overview
A majority of the aspects of our daily life depends on electricity. Internet and computers would not operate without reliably stable, high-quality electricity. Electricity also plays a crucial role in ensuring various modern comforts and easing household tasks. It plays an even critical role in the commercial, manufacturing, and agricultural sectors, where it provides lighting and powers a variety of machines.
Our Company
Established in 2000,
Raj Electricals
is an eminent company in Electrical Products and Accessories. We are engaged in the supply, dealing, distribution, export and import of the widest range of electrical and electronic items that would suit every type of project, economy and medium. Our products include Control Panel & Motor Starter, ACB Switchgear, MCB Switch, Timer, Relay, Contactor, AC Drive, PC Controller, IGBT,SMPS, PLC Programmer, PID Controller, Sensor, Counter, etc.
We also deal in all types of Copper and Aluminum Wires and Cables and all types of Alang Electricals & Electronic Goods. Our company is a reputed dealer and distributor for distinguished brands like RR Kabel, Sunlight Cables and Merlin Gerin. Besides this, we are working with a leading ship breaking yard considered to be Asia's largest, which is located at Alang (port) in Bhavnagar.
Besides all above we are also dealing in a wide gamut of second hand and used products.

Quality
The quality assurance plan at Raj Electricals is guided by the urge to provide an uncompromising quality to our valued customers to ensure lasting satisfaction. Each product undergoes a prescribed range of tests under the supervision of our quality inspectors once they have been procured from the manufacturers. The quality of our MCB switches, rotary switches, timers, relays, contactors, AC drives, PC controllers, and allied products is assured by a well defined Quality Policy in conformance with the international standards.
Infrastructure
Raj Electricals is equipped with a modern infrastructure comprising of spacious warehouse supported by a well-qualified workforce. Employing latest technology, we are able to keep our MCB switches, rotary switches, timers, relays, contactors, AC drives, PC controllers, etc. safe from any climatic disturbance and other faults.
A team of coordination executives actively updates our clients about every single movement of goods, and confirms their dispatch & receipt on time. Beside these, the experts also maintain strict vigil on our production line, such as in the packaging and shipping stages, which ensures that they are handled with care and are not damaged during transportation.
Clients
Few of our major clients are as follows:
J J Spinning Mills Ltd.
Kishan Cement
J K Tyres Ltd.
Chhatariya Dehydrates Exports
V-Mart Retails Pvt. Ltd.
Hardoli Paper Mills
Suniti Paper Mills
Scrolodite Pipes Ltd.
We Deal In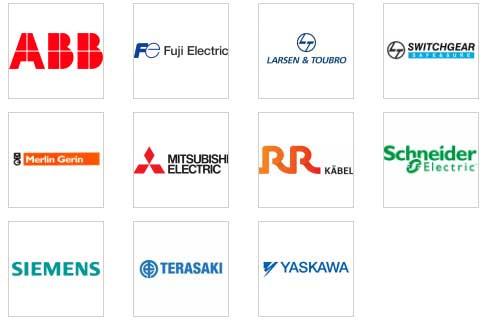 Read More